Private Label/Custom Manufacturing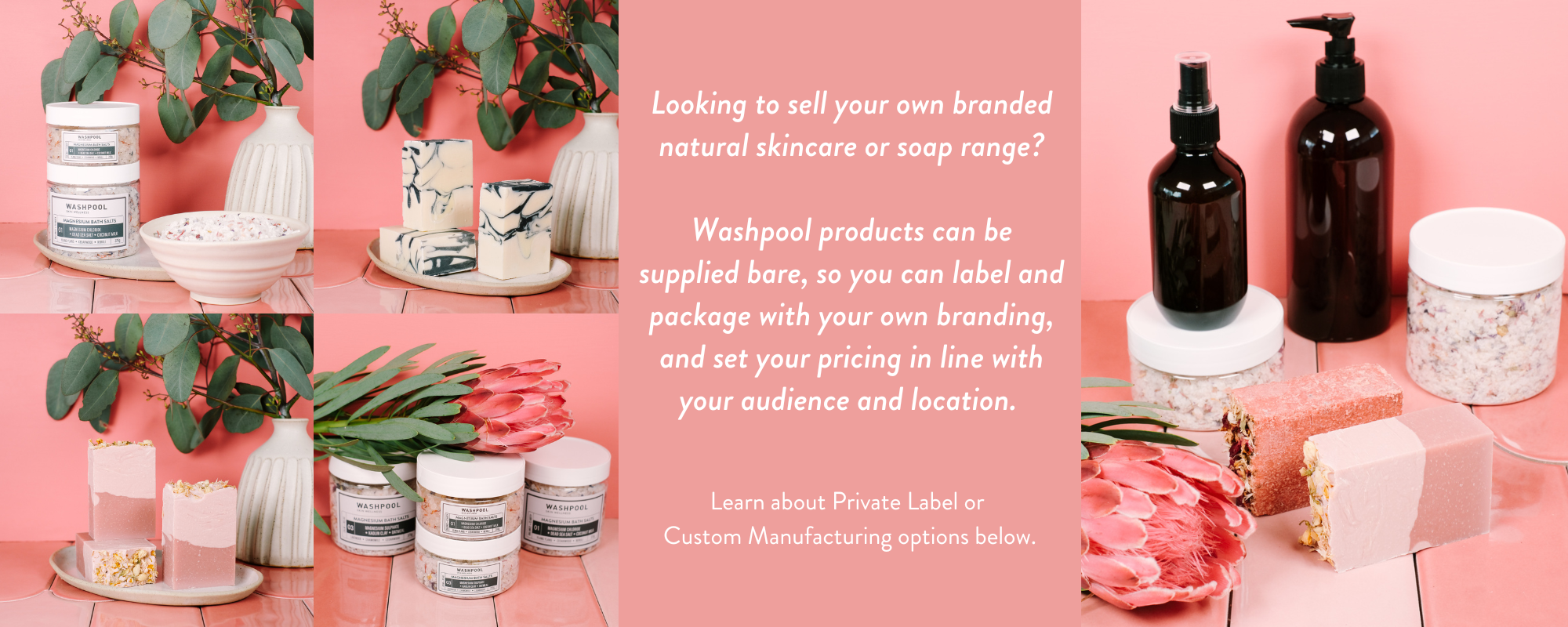 About Private Label
Private Label relates to products that Washpool currently produces, supplied without branding, for you to label and package with your own branding.
You are naturally free to set your own price for these products, according to your situation and clientele (our private label clients enjoy margins between 100% and 400% on purchase price).
You must give your products original names and not use the same name as Washpool products.
You must use your own images and not extract any images from Washpool. It does neither your business nor ours any good if people google a product name and end up with similar looking products sold by different businesses at different price points.
You can be assured of confidentiality. We do not discuss clients or the products they purchase from us with anyone other than staff.
Private Label does not provide for any changes to existing products or packaging. Please see below for situations where you request changes to our existing products.
Luxe Bar Variations
Our Luxe Bars are our playground area to experiment with new types of soap scents and ingredients. The bars are different from our regular bars for a number reasons - they are larger, they are individually hand cut, they contain higher percentages of luxury ingredients such as shea or cacao butter, they contain special ingredients such as Himalayan salt and/or they are more involved to make with design features or more decorative finishes. Once a soap makes it into this range it can stay around for the long term if it proves popular, or alternatively they can be seasonal. The soap bar tops may vary a little from batch to batch, depending on temperature on the day or the supply of botanicals etc. We can adjust superficial features such as tops to some extent when you purchase a full batch (approx 100 bar).
Custom Manufacturing
Custom Manufacturing is when we create products for you that are based on our existing products but with moderate changes to formula, scent, colour or weight. Some examples are: adding a different essential oil (eg. for a lavender business), adding a brand hero ingredient (eg. manuka honey, hemp or calendula), or making specific sizes and colours. (Please note that we do not vary our soap bar height and width as our cutting equipment is set to current sizes. We can adjust the thickness of the bars however this requires hand-cutting individual bars and will likely increase labour costs. Standard sized bars (like our 110gram standard bars are the most economical as we can cut multiple bars in one pass). Significantly different sized soap bars would require additional equipment and would only be cost-effective for very large orders).
Custom Manufacturing work needs to be costed on a case by case basis and our production software allows us to accurately estimate the final cost per item, for your consideration. Settling on a custom made product does take time to establish your goals, create the formula and run test batches. Because of this, we have introduced a $200 fee for custom job initiation. This covers our time working with you on your requirements, developing the formula and providing a test batch that we send to you. Test batches vary depending on the product, but generally, soap would be a 1kg batch. You would receive the items and test them out to see if you are happy with the end result before committing to a full run. Custom Manufacturing is usually priced similarly to our wholesale prices - with any variations usually to do with the cost of ingredients (eg. rare or exotic essential oils) or special labour requirements (eg. packaging etc).
Changes to Formulas
One of the benefits of being a small business is that we can be agile in responding to customer demands by analysing our sales data. Sometimes we delete a product, tweak it or introduce new products. We do this to ensure that we are making what is in demand and will sell best. In some cases, we need to make changes due to short supply or cost of supplies (one particular blend recently doubled in price overnight). We'll try to give you advance notice about changes if they affect your order.
It is good for you to keep us in the loop in terms of your production requirements so that we can plan to maintain continuity at all times. We would also like to know if you are committing to large packaging or labelling runs so that we can do our best to ensure that nothing changes that would require adjustment to your presentation.
Ensuring Correct Orders
We have established a process to ensure that Private Label customers receive correct orders. Contact us if you'd like to purchase something Private Label - so we can confirm you understand the requirements. This applies if you already purchase something Private Label and would like to try something new.
Default Order Instructions - Every Private Label customer has a note placed in the Default Order Instructions at Checkout (you can also access this in your Contact Details page). Please ensure that you update this with every order as to which items are requested as Private Label. Some of our Private Label customers only want some items unlabelled, others want all items.
Production Times - Private Label can take longer to fulfil simply because we need to run a new unlabelled batch for you and need to fit this in with our own production. It's good to give us two to three weeks notice before you need an order (though we'll often be quicker than that, we can't guarantee).
Minimum Orders
Because we label all of our own products immediately if you order Private Label we often need to run a complete batch of something. We require you to order numbers according to the following:
Bar soaps (standard 110g size) - these may be purchased in sets of 10 bare. Custom jobs require a 144 bar minimum.
Luxe bars (150g size) - these may be purchased in sets of 10 bare. Custom jobs require a 100 bar minimum.
Shampoo and Conditioner (liquid) - 20-litre batches
Shampoo bars - 75 in a batch
Shaving soap - a batch of 120 containers (we can make the three variations within this amount)
Shea balm - a batch of 100
Lip balms - a batch of 200
Hand and body wash - 20 litres
Foaming hand wash - 20 litres
Salts - 15kg
Bath bombs -120 in a batch
Candles - 30 litres
Other items by negotiation
Some of these minimum orders can be lowered if we are due to run a batch of something or if you are willing to wait until our own product lines are being processed.
Containers
We use our standard containers and send them to you bare for you to customise. We do not offer a labelling service. We can fill containers that you supply by negotiation.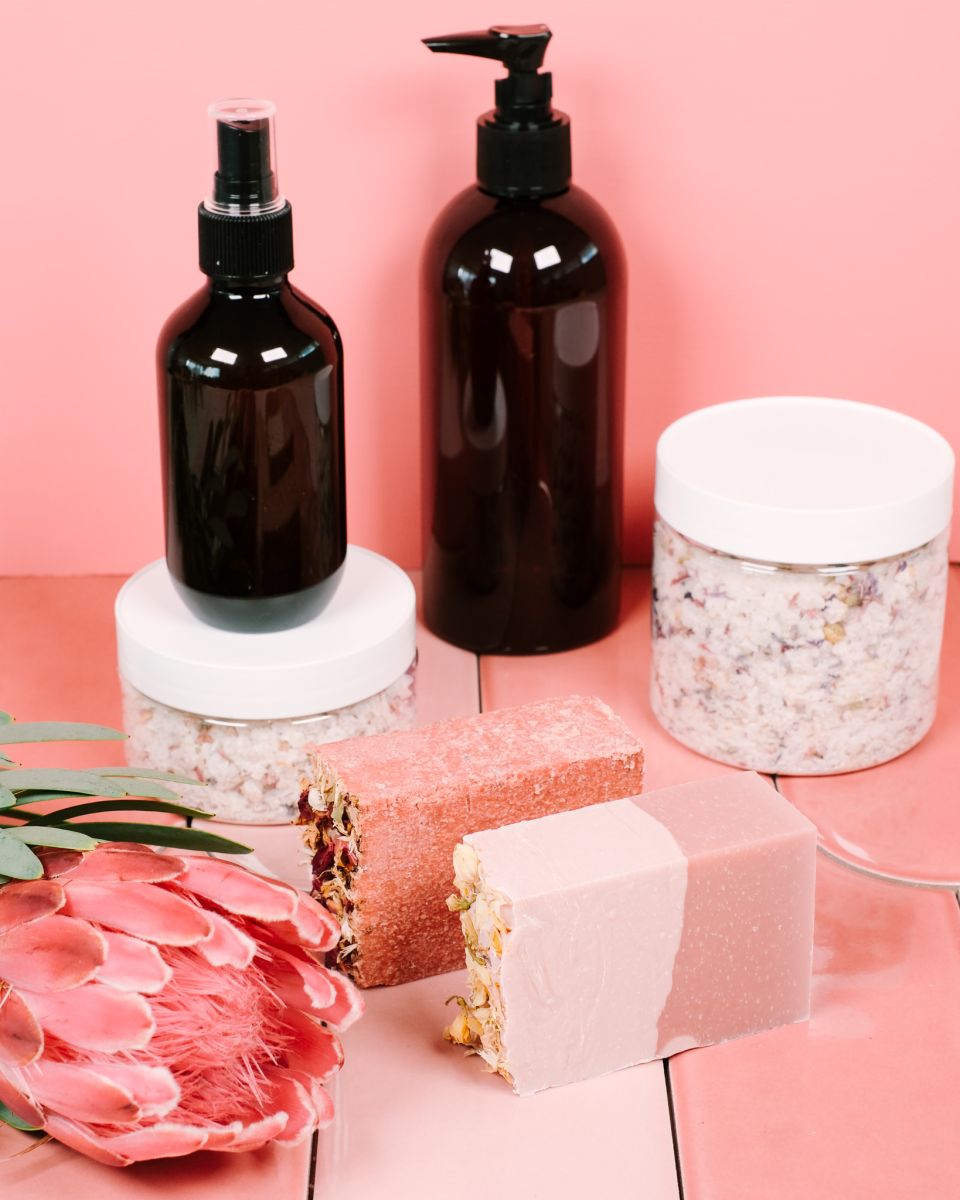 Apply
Apply for a wholesale account to be able to access wholesale pricing and private label (please make sure to add a note about your private label or custom requirements in the Customer Notes field).
We hope these clarifications help the Private Label process run smoothly.
If you have any questions please contact Melissa at info@washpool.com.au. Melissa is the Owner/Director and has over twelve years of formulating experience, and will help you get started on the private label process.
We look forward to working with you.
The Washpool team.