We've just recently completed two full day intensive Soap Making Workshops at our Ballandean soaperie with a total of 18 attendees. Our participants left with big smiles on their faces, plenty of ideas and inspiration, and some new friends.
If you're thinking you'd like to join us in a Soap Making Workshop, or get a group of friends together or your work team to do a workshop, read on to see what's involved.
You don't need to be starting your own soap making business, but this workshop will give you the start, the knowledge, contacts and tools, to explore more, or you could attend purely to enjoy the day getting hands-on, making something that feels and smells amazing, and is totally usable. You will come away from it with a real appreciation for quality natural soap and ingredients, and that you have immersed yourelf into a full sensory experience.
What happens on the day of a Soap Making Workshop (1 day intensive) -
9am Arrival
Attendees arrive and are offered freshly ground cafe quality coffee and specialty teas, as well as a gluten free starter.
On the menu this weekend - Lemon Rosemary & Olive Oil Cake and German Apple Cake with Brown Sugar Cream
9.30am in the Meeting Room
Official start and run through of how commercial soap is made, including ingredients and discussion on cold process soap making.
Exploration of a selection of special purpose soaps and how they perform and lather (everyday, facial, shaving, shampoo, etc)
10.30am in the Lab
Melissa demonstrates the processes of goats milk and water soap making methods.
Participants prepare Stage One of their own soap making process chosen to take home. Here participants will not only witness the demonstration, but their chosen process and a partner's process on another method on the day.
11.30am in the Kitchen or Soaperie surrounds
Morning tea including specialty teas and organic coffee from our micro cafe is served.
On the menu - Chocolate Brownies, Banana and Honey Muffins, Blueberry Muffins, Savoury Quiches.
12pm in the Lab
Melissa demonstrates how to prepare oils and make two batches of soap (plus a bonus demonstration of an advanced colouring technique). Students then make their soap using their choice of either goats milk or regular plus their choice of essential oils and blends.
2pm in the Kitchen or Soaperie surrounds
Class finishes in the soap lab and we head back over to the soaperie gardens for a delicious, healthy lunch. Oh, and local Granite Belt region wine too....
On the menu - Zucchini & Pesto Pasta, Chicken Neapolitan Pasta, Stuffed Pumpkin with wild rice, quinoa, feta and herbs, tossed mixed Salads, Beef in Red Wine with Mushroom Casserole, and Garlic Bread (all gluten free).
Served with a local Shiraz or Sauvignon Blanc, and sparkling water.
2.30pm … still in the gardens
Participants still haven't moved from lunch, with plenty of discussion about ways to mix it up, adapt the formula to special needs.....or topics completely unrelated to soap. They receive their copy of Pure Soapmaking, a book by Anne-Marie Faiola and the ideas start clicking over.
2:45pm
Class participants finally look at the watch and wonder where the day went! So much to take in, helpful website advice and the start of the soap making journey.
If you think you'd like to be involved with our next workshop, click here and get in quick. Classes are intimate and hands-on and capped at 9, so get your friends together for a fun day of becoming an artisan soap maker.
Your Educator - Melissa Thomas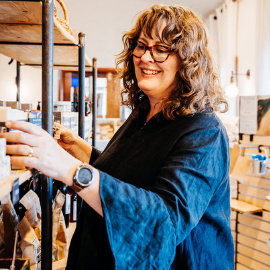 Founder and formulator Melissa Thomas has over 12 years in the skincare and wellness industry with her creation of Washpool Supply Co. She is a soap maker, formulator and small rural business owner, and is currently completing her Diploma in Cosmetic Chemistry. Melissa's previous education was in teaching and social science, so the sharing of knowledge is something she is passionate about. Melissa demonstrates and guides you in your understanding and practical skills on the day, and is happy to support you with any questions you have following the Workshop.
Local Caterer and Guesthouse - Lizzie Sabo at Sabo on Severn @saboonsevern
Local Wine Maker - Ballandean Estate @ballandeanwines