Box of 10 SHOWER, SHAVE, SHAMPOO (THREE IN ONE) Soaps - Bare
THREE IN ONE (Shower, Shave, Shampoo) with rhassoul clay
| | |
| --- | --- |
| Naturally good soap | THREE IN ONE (Shower, Shave, Shampoo) with rhassoul clay |
| SSS | Box of 10 THREE IN ONE Soaps - Bare |
| Rhassoul Clay · Cacao Butter · Essential Oils | 10 Bars |
-->
Rated

5

/

5

based on

6

reviews.
---
Customise Your Purchase
Choose 10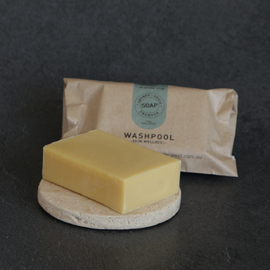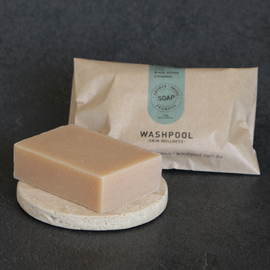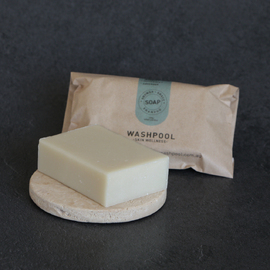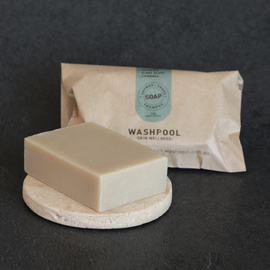 Box contains 10 bare (unpackaged) soap bars from the THREE-IN-ONE range.
Choose either 10 of one type or a mixed box (choose from the four scents in this range). The defaults numbers can be modified.
A versatile shower, shave and shampoo formulation.
When fellas started telling us they wanted just one chunk of soap for showering, shaving and shampooing the inner-geek in us was set free in the quest to formulate the perfect all-in-one soap bar.
We've included Moroccan Rhassoul Clay for razor slip and Virgin Coconut Oil for a satisfying lather to soothe hard-working skin and the very best of oils and butters for gentle, effective cleansing.

With a generous splash of our favourite masculine essential oils we know you'll want to convert.
This product was originally named Men's Soap, but so many ladies were using it that we renamed it to Three in One.
Moroccan Rhassoul Clay helps absorb excess dirt and oil and provides slip to our shaving soaps
Brazilian Clay - provide natural colour, helps absorb oils and is particularly good for sensitive skin.
Shea & Cocoa Butter, Olive, Castor, Coconut & Macadamia oils deeply penetrate and moisturise to leave your skin smooth & soft.
Essential oils (depending on which set you select)

Bergamot, Cedarwood & Patchouli Essential Oils - Provides a citrus and earthy scent.
Lemon Scented Eucalyptus & Mint Essential Oils - Provides a citrus and refreshing scent.
Patchouli, Ylang Ylang & Cinnamon Essential Oils - Provides a spicy and earthy scent.
Sweet Orange, Clove & Black Pepper Essential Oils - Provides a spicy citrus scent.
Bars weigh a minimum of 110 grams when packed.
Testimonial
As a guy that shaves a lot of real estate with a blade, face and head, [Washpool] men's shave and shower bars are absolutely the best. Just makes shaving a pleasure.
| | |
| --- | --- |
| SKU | BOX10-BAR-31-BARE |
| Brand | Washpool Skin Wellness |
| Shipping Weight | 1.2000kg |
Saponified oils (olive, coconut, shea butter, cocoa butter, macadamia, castor), essential oils, rhassoul clay, Brazilian clay.
Husband requested a second box!

22 January 2022

I bought a box of 10 Bergamot · Patchouli · Cedarwood soaps for my husband in March 2021. He came out last week with the empty box, asking for another to be ordered - can't get much better recommendation than that from a man who previously would just use supermarket offerings!




(5)
BEST SOAP EVER

17 October 2019

I purchased this box of soaps awhile ago now and I've been loving them! They smell great, last longer then anything else I've ever used and wash my hair/skin perfectly! I've been recommending natural soaps to everyone, thank you Washpool!




(5)
My Dad loves this!

12 September 2019

I started buying the 3 in 1 soap for my dad a while ago and he loves it. They smell great, which is important as he doesn't like smells that are artificial or overpowering. My father is an organic farmer so likes to use products that are natural as possible, again this soap fits the bill. A great product.




(5)
The best idea for Mens grooming yet

8 July 2019

I've have used this product for over a month it smells great cleans great works really well as a shampoo and shave cream. So we'll in fact that I have got rid of the shampoo soap and shaving cream out of my travel wet pack and will just use this instead. I think they have got a winning product here thats a great price and you can get samples to test if you want.




(5)
Two birds with one stone using three in one soaps!

18 April 2019

I ordered these soaps partly for me and partly to donate towards a workplace drive for donations for care packs for a women's shelter. I used to live near this soaperie and I know how lovely their products are and, having recently moved back to the city for work, I was missing my supply and thought they would also make a great item to include in the care packs. They arrived more swiftly than I had anticipated and, when I took them to work and left them in the allocated place for donations, they generated quite a bit of interest. The soaps are beautifully scented but don't stir up my sinuses and they are delightful to use. My only concern is that I never am organised enough to order ahead adequately to allow for longer curing time before I use them. Thank you Melissa and staff for working so earnestly to produce quality items with the environment and ethics in mind.




(4)