New Nourishing Face Oil
Date Posted:23 April 2019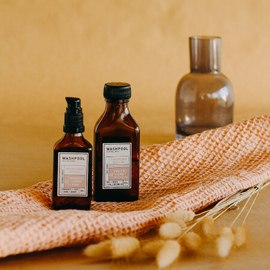 Washpool Skin Wellness has just released our new advanced formula Nourishing Face Oil, designed to smooth, soften and protect dry, sensitive and mature skin.
Special offer: Purchase a 50ml Face Oil (Nourishing or Balancing) before midnight Sunday 28 April & receive a free matching Facial Cleansing Bar and Konjac Sponge.
Every good product starts with a problem that needs a solution. In the case of our facial oil, the question has always been "How can I soothe, moisturise, nourish and protect my delicate facial skin naturally?" In 2018 we researched the best natural facial oils available worldwide and consulted with a leading Australian cosmetic chemist to design our own unique facial oil.
We took a four-dimensional approach when formulating our facial oil:
A thorough investigation of the best facial oils available anywhere in the world
Deep research into the benefits of potential ingredients
Ongoing consultation with a trusted cosmetic chemist to guide the formulation
Applying all we have learned to the needs of our clients to deliver world-class formulas at our amazing 'direct to client' price.
Traditional moisturisers are made by combining oil-soluble ingredients (like mineral or vegetable oil) with water-soluble ingredients (usually water). To do this the product must contain an emulsifier (to make the oil and water ingredients combine). And because bacteria and mould love to grow in products that contain water, all standard moisturisers must also include preservatives.
Our aim was to design an advanced formula and make it available to our clients at an incredible direct-to-client price. Our formula easily competes with products that retail for twice the price but because we make our own products on site and market direct you can enjoy the benefits of an elite formula at an everyday price.
Worried about putting oils on your face? Don't be! Facial oils are becoming more and more popular as people realise the benefits. You only need a tiny amount of oils (just a few drops) as compared to normal moisturisers - saving on packaging and transport. There's no need for preservatives which is great for your sensitive facial skin.
Each ingredient has been chosen for its skin soothing & nourishing benefits - no fillers here!
Premium ingredients include:
Macadamia oil: Although we're familiar with macadamia oil here in Australia, internationally it is considered one of the most highly prized oils for natural skin care. It has a wonderful reputation as a nourishing oil that supports cellular membranes, helping to retain moisture and regenerate the skin.
Avocado oil: Surprisingly, avocado oil is one of the few oils to be pressed from the flesh of the fruit, rather than the seed. Avocado oil contains vitamins A, B and E as well as proteins and amino acids and supports collagen and skin structures. It absorbs easily and protects those with sensitive or damaged skin.
Rosehip oil: Generously endowed with Vitamin A, rosehip help to delay age-related breakdown of the skin and underlying tissues. On the skin, the oil is silky and luscious, absorbing quickly to create a moisture barrier.
Jojoba oil infused with Helichrysum: Jojoba is an excellent oil that is highly compatible with our skin. It helps protect the acid mantle, guarding against skin imbalances and bacteria.

Helichrysum, also known as Immortelle and Everlasting, is held in high esteem by experts in the field, with Battaglia, S (2018) p. 288 stating that "The essential oil's action in treating both chronic and acute skin disorders, with its combined skin-regenerating and anti-inflammatory action, means that it has secured itself a place as one of the most precious and important essential oils in aromatherapy".

Hemp oil: With its broad range of fatty acids, hemp seed oil has the reputation of being called "nature's most perfectly balanced oil." It soothes and heals dry skin.
Pomegranate seed oil: Soothing and regenerative, pomegranate seed oil is of particular benefit for mature complexions and helps protect against environmental exposure. Pomegranate contains Omega-5 fatty acids and has a luxurious feel on the skin.
Olive Squalane: As we age, our skin produces less emollient lipids. Olive squalane closely mimics the skin's natural moisturisers and helps reduce the signs of ageing that can occur when our skin isn't adequately moisturised. This important ingredient helps prevent loss of hydration, keeping the skin more smooth and supple.
Bisabolol: Derived from German Chamomile, Bisabolol is an anti-oxidant with well known soothing and anti-irritant properties. It restores suppleness and helps protect against environmental stress. Importantly, bisabolol also acts as a penetration enhancer, helping other active ingredients absorb into the skin.
Sea Buckthorn Seed (CO2 extract): CO2 extracts are extremely concentrated and we have included Sea Buckthorn for its antioxidant, regenerative, environmental protection and skin strengthening properties.
Vitamin E: Helps strengthen the barrier function of the skin. Vitamin E is an anti-oxidant that helps soothe and calm the skin and has the added benefit of protecting the other oils in the formula against oxidation.
Lavender Essential Oil, Neroli Essential Oil, Frankincense Essential Oil: Selected for their balancing, soothing and aromatherapy benefits.