OUR SOAPS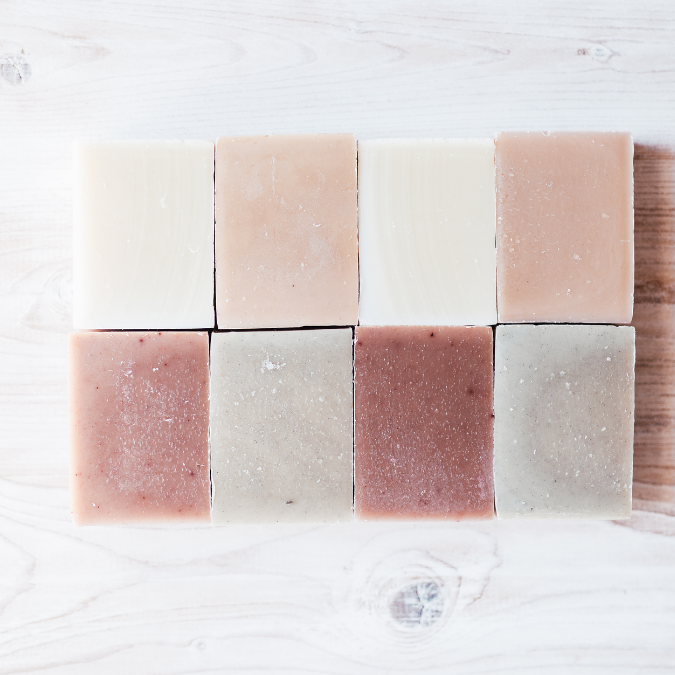 If you're new to Washpool Farm you might be a little bit daunted by the choices in our handmade soaps, so allow us to help by explaining the different categories.
THE PURIST with pastured tallow (Primal, Paleo, Minimalist) - True to a 100 year old recipe. Traditional hard soap for soft skin.
GOAT'S MILK with shea butter (Fresh Goat's Milk) - A mild and creamy bar for a gentle and soothing cleanse.
THE COCO-NUT with coconut cream (Vegan) - A supreme, fluffy lather for soft & supple skin.
SCENT FREE with extra virgin olive oil (two vegan, two goat's milk) - Comforting to overloaded senses and delicate skin. This range is unscented and made on pure extra virgin olive oil, and is suited to people with a range of allergies, sensitivities and skin 'problems'.
THREE IN ONE with Rhassoul Clay (Shower, Shave & Shampoo) - A versatile shower, shave & shampoo. This bar is incredibly popular with men who desire an 'all in one' cleansing product. Both gentle and effective for all your grooming needs.
FACIAL CLEANSER with aloe vera & avocado (Vegan) - These bars are particularly gentle and are based on a luxurious aloe vera and goat's milk recipe. Activated Charcoal & Brazilian Clay purifies & balances oily & combination skin. Rose & Ivory Kaolin Clay smooths and and softens dry, sensitive or mature skin.
DOG SHAMPOO with neem oil - Relieves the "itchies" by gently washing away irritants and calming the skin. Available with essential oils or as 'sensitive' (scent-free) these bars also contain goat's milk to pamper your precious pooch.
SPECIALTY SOAP BARS - this section contains our special purpose, luxury, experimental and 'by request' soap bars for your enjoyment.