Melissa knew she wasn't alone in wanting to provide her family with the healthiest, most socially responsible products that are "everyday affordable" - not seen exclusively as a gift or a treat.
Over a decade ago, while raising three young children on a remote cattle property in Roma western Queensland, part of daily life was feeding livestock with her kids. Living in such a harsh environment meant that the children often had dry, wind blown skin, but when Melissa applied moisturisers their skin would sting. She'd often turn to olive oil to soothe them, and although it wasn't a perfect solution, it didn't cause pain and irritation. She began to realise she didn't apply the same scrutiny when buying products to use on her and her family's skin as she did to food labels. After continuous reactions to shampoo, she started reading her product labels and found that both expensive and supermarket brands contained similar irritating ingredients.
She threw herself into research and was soon experimenting with her first batches. Melissa began selling her soap bars at the local handmade market, interacting face to face with customers and learning their wants. With an expanding loyal customer base, Washpool eventually outgrew the farmhouse kitchen before taking a big step into the storefront and workshop in Ballandean. In 2022 Washpool celebrated their 13th year, and with that in July 2022 moved into a new purpose build premises at Unit 4/7 Reeves Rd, off Texas Road in the Stanthorpe Industrial Estate.
We were a little sad to say that we'd outgrown our beautiful space, including herbs and flower gardens, soaperie and lab in Ballandean, however we've always had a dream of sharing how we make our products with our customers in a more visual way and this was the perfect moment to realise that dream.
Our new premises has become the place to go for a full sensory experience. We're so proud of the products we make that we want our customers to see us mixing luxury raw materials into gorgeous natural products for healthy skin and home.
Our new home includes a coffee bar for exploring travelers, visitors and locals, as well as a hand washing trough for product testing, and full visual access to the laboratory where our products are formulated and handmade on site. We are now better equipped for natural soapmaking workshops and classes, and corporate team building events, so you can get hands-on on your visit to us.
We are pet friendly and child friendly, and there is something for everyone as part of the new Washpool Supply Co. experience.
Melissa, her husband Warren and their daughters Emily, Hannah and Jessica along with their poodles Dickens and Tuuli, and cattle herd live off-grid about 8km from the tiny township of Ballandean. Washpool is a family business, with Melissa, Emily and Hannah working full time and Warren dividing his time between the farm and the soaperie.
Washpool also employs a supportive team of local women who work in our retail, wholesale and production lab departments, who provide a beautiful community when you enter the store, and a constant hive of activity.
Drawing on her background as an academic and educator, Melissa loves sharing her knowledge with visitors to the Granite Belt and regularly holds courses so students can appreciate the hands-on nature of soapmaking.
We look forward to welcoming you next time you're in the area.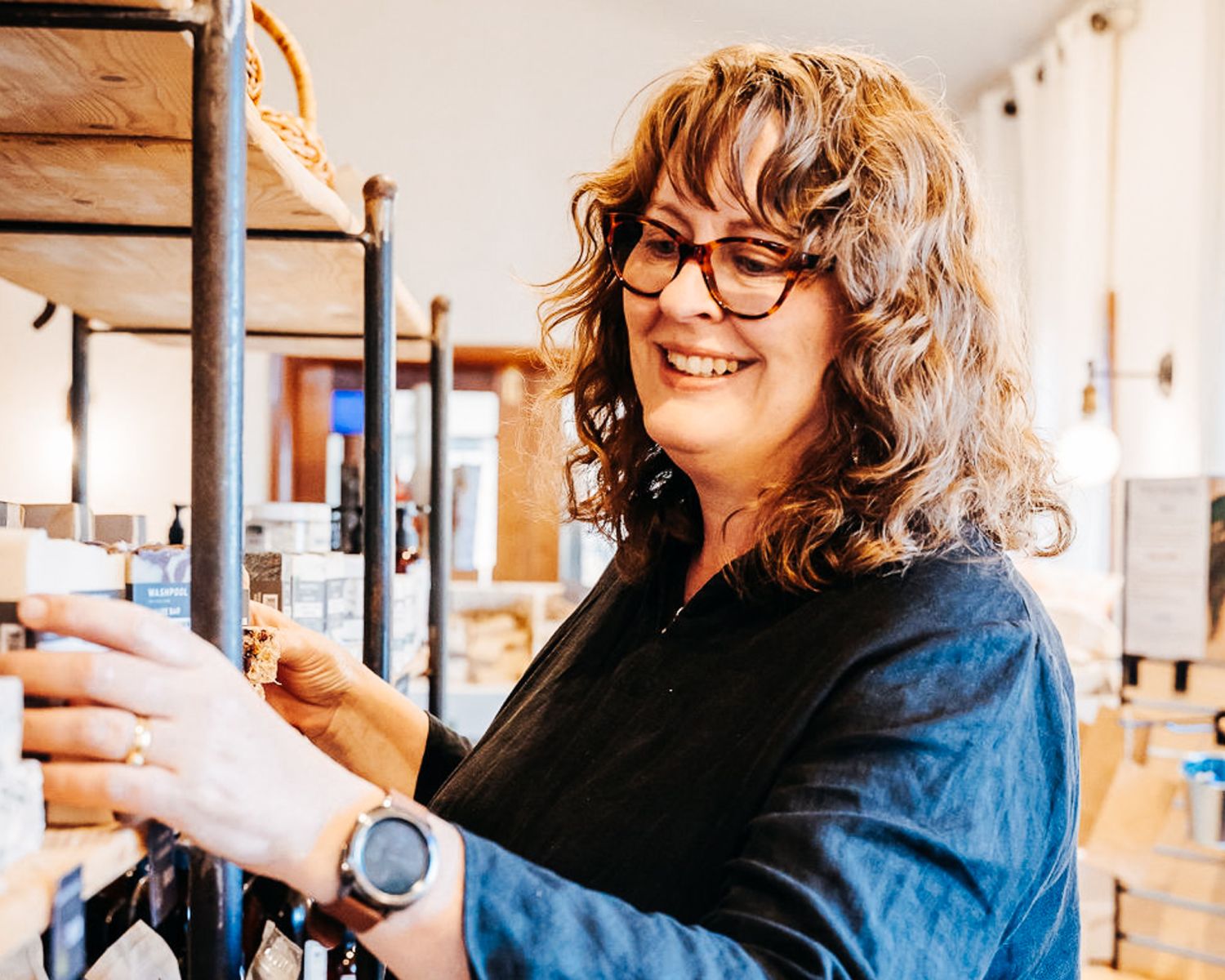 Melissa - Founder and Formulator