LIP CARE TO HELP YOU SURVIVE WINTER'S WORST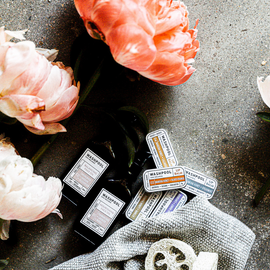 Winter time brings its own special challenges for our delicate skin. Cold temperatures, dry weather, air-conditioning and wind combine to stress our often neglected, but hard working lips. We decided to shine the spotlight on typical lip balms and ask some tricky questions about what we really want to be putting on our lips.
After all, what goes onto our lips ends up in our body, so it's worth taking the time to carefully select what we want for ourselves and our families.
Have you ever flipped your lip balm over to read the ingredients? Take a look at the ingredients in a typical commercially available stick for chapped lips. There's:
Padimate O, white petrolatum, arachidyl propionate, camphor, carnauba wax, acetyl alcohol, D&C red no.6 barium lake, FD&C yellow no.5 aluminium lake, fragrance, isopropyl lanolate, isopropyl myristate, mineral oil, methylparaben, octyldodecanol, oleic alcohol, paraffin, phenyl trimethicone, propylparaben, white wax … you get the point.
Does that sound edible to you? This is a formula driven by commercial pressure - pressure to make high profit margins, pressure to ensure shelf stability and long life through a diverse range of climatic conditions, pressure to make a product that can be easily managed in an industrial filling system.
Formulating healthy skincare products can be a little daunting as there's so much to consider. At Washpool Farm Soaperie we start with our guiding principle - CLEAN ingredients. This means nothing artificial - no synthetic flavours, colours or petroleum-based products.
The goal of our Manuka Honey Lip Balms was to formulate a nourishing balm that would protect and moisturise the lips. They can also be used to moisturise dry, cracked hands. All varieties can be used this way, but the Calendula is especially good as it helps with healing.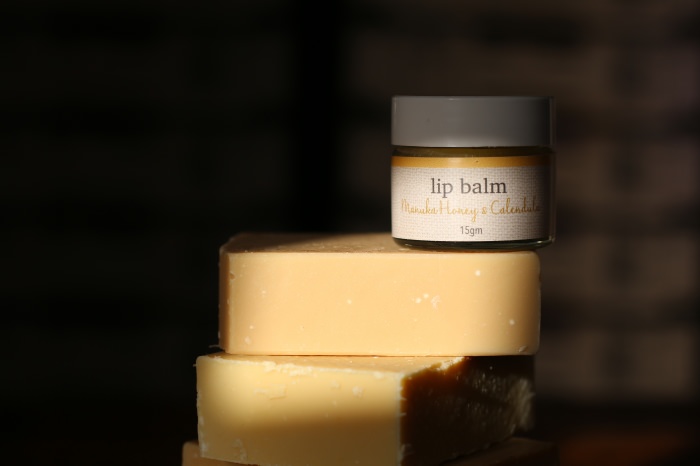 Importantly, when we think about lip balm ingredients we're mindful that we're likely to ingest at least some of the product. It's on our lips so we're probably going to EAT some of it. This gives us one more really important reason to include FOOD GRADE ingredients that do not harm when swallowed.
You can see this philosophy when you read our ingredient list:
Castor oil, beeswax, shea butter, sunflower oil, avocado oil, jojoba, cacao butter, Manuka honey, vitamin e, rosemary extract and essential oils.
Naturally we're not suggesting you eat the balm for lunch. But, you get the point.
You'll notice we've included Manuka honey in all our lip balms. It's definitely one of our hero ingredients. Manuka honey brings multiple benefits to the formula. First, it tastes good so we don't need artificial flavours. But there's so much more to Manuka honey. It has been proven in laboratory conditions to be anti-bacterial and anti-inflammatory. It also helps balance the skins pH while bringing moisture and protection to the lips.
We whip our honey into the lip balm mixture at the last moment before pouring, so it isn't exposed to high temperatures and, therefore, maintains its integrity.
To keep this post shorter than a novela, we'll cover the wonderful qualities of three top ingredients:
Castor oil
The fatty acids in castor oil help to soften and smooth dry skin, Castor oil also has lovely gloss to it, enhancing the lips' natural colour with a little shine. Castor oil is said to have anti-bacterial and anti-inflammatory properties making it a good choice for parched lips.
Beeswax
It's been used in skincare for a very long time. It provides a protective coating to the skin without blocking pores. Combined with soft, emollient oils, beeswax helps protect against cold and dry weather, while also soothing dry lips.
Shea Butter
Shea butter is extracted from the nut of the Karite tree. It absorbs easily into the skin, making it more supple. Like beeswax, shea butter also helps provide a barrier against harsh climatic conditions.
So, that's it. Healthy, delicious lip care to help you survive winter's worst (or best).